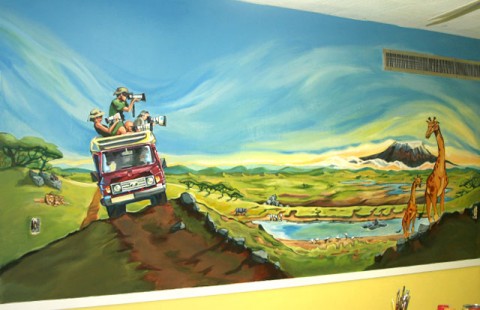 I've finally completed the mural in the upstairs nursery in our church.  And allow me to say, it was no small task.  However, just like running a marathon, it was exhilarating and rewarding.  And even better, I would do it again.  Often I judge a project on its repeat-ability factor.  This project, for me, I would happily do again… and I may be a little wiser next time!
I need to continue where I left off last time.  Here is an image of what I saw when I walked into the room yesterday morning.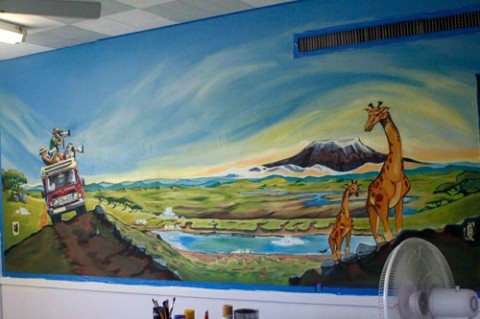 There were no animals painted, the rest of the room's walls where still only a primed coat. For my painting there were several small continuity issues across the entire piece.  Some friends from the church took it on themselves to finish painting the room so we could have it prepared in time for Easter.  With that motivation rumbling in the back of our minds we were able to complete the room by nightfall.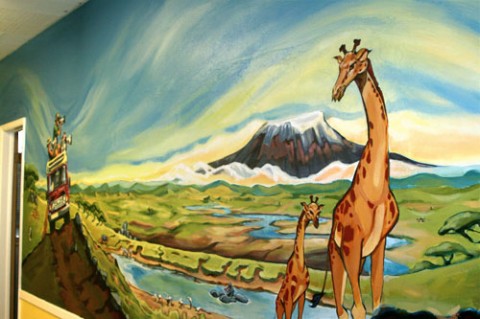 Here is an angled shot to demonstrate the scale of the piece.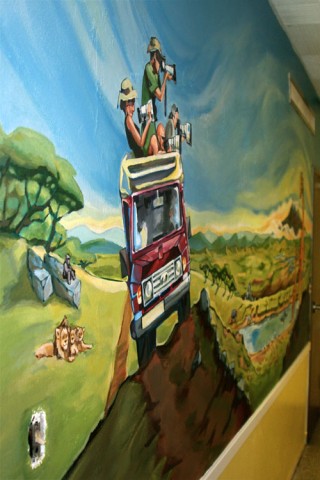 Some issues I ran into while painting the mural were with the paint, my brushes, and the quality of the surface I was painting on.  Mostly they were all sub-par.  The wall was a terribly bumpy mess that we did our best to smooth out and touch up.  Regardless, it functioned as sand paper for my already ruined brushes.  And any artist out there knows what happens to acrylic paints when they are out on the palatte for anywhere close to 45 minutes.  It turns to paste.  So after learning how to deal with the paint's consistency, and caving to buy some acrylic medium, I was able to paint with the right viscosity.
Another issue I had was simply getting worn out.   I'm used to being able to put 8-10 hours into a painting without getting tired, but the scale of this piece, the running up and down ladders, the huge sweeping brush strokes, basically wore me out.  Each day I'd come home completely exhausted.
In closing, this project was monumental for me, one because I was able to give something back to the church which has made such a difference in both my husband and I.  We also have recently made the decision to leave South Florida and return to the midwest, which means another big change in our lives.  This project is somewhat of a turning point for me.  I'm happy we are able to leave a mark here.  This church, and this place, and these people, mean so much to us!