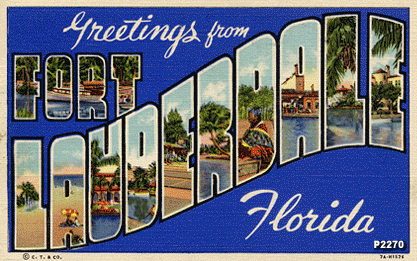 Two hours.  That is all the time left that I have to soak up the immense sunshine and balmy winds of Florida.  At 5:30 my husband will be home from work and we start the mad rush of packing the truck.  We've rented a Penske truck, 16′ with a car trailer.  Last night we looked wearily at our array of boxes and furniture and hoped to goodness we will be able to fit the entirety of our earthly possessions into 800 square feet.  I've never felt so materialistic in my life until now.
At present I'm sitting on our lani overlooking tropical greens and cerulean blues and watching my dog Ellie drink it in.  She squints and sniffs the air, like there is something delicious cooking nearby. An ant just crawled across my screen. The sun is so bright, I have to wait a moment for my eyes to adjust when I glance up from the screen.  However, it's not the climate I will miss so much from Florida, we have days like this in Indiana as well, though fewer.  I will miss the culture, the diverse nature of the people, not just racially, but even among personalities.  I think when I remember Florida, I will remember it in full color.  Like a party with streamers, or a sky full of kites.
Poor Ellie, If only she knew what was coming.  (snicker) Snow is just one of the hurdles she will have to get through, (I intend to just toss her in and see what happens.)  Ellie is a Florida dog, a mini poodle, and hopelessly cute.  Her former name was Sassy, though we corrected this hideous mistake shortly after getting her.  She, like us, is not fully aware of the task we are about to undertake.  1500 miles of open road, and a huge truck to manage, I believe this is a personal first.  We don't have the support (i.e. parents) we are used to for this journey.  I never realized before what a physiological difference their presence made.  But, just as with Ellie and the snow, there is no time like the present to just jump in and attempt a new 'first'.  Gosh, I've never felt so young.
I don't want to call this 'killing time.'  I'd rather say I'm appreciating time.  These few moments before all hell breaks loose and we pack the truck and are on the road.  It will go fast, probably too fast, and I'll be in an office somewhere doing something entirely different than now.  So I'm going to breathe in, soak in the sunshine, and watch my Jewish, Indian, European, Greek, and even Floridian neighbors go about their day. For me, one last time.
Goodbye Florida!