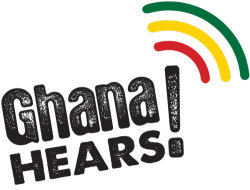 A few months ago my cousin Jaime Frimpong and I were talking on the phone. She lives with her husband Kofi in Knoxville, Tennessee and is earning her masters in social work.   We like to catch up now and then, as we've been life-long friends, literally since infancy.  (I have photos to prove it.)  She was outlining the details of her recent trip to visit her in-laws for  the first time, in Ghana, Africa.  She described the sights and smells and tastes of such a different place, and the joys of seeing her beloved family for the first time ever.  She and her husband had a wonderfully memorable experience, and it was a joy to share in the retelling of that story.
During our conversation Jaime went on to explain an issue she ran across while in Ghana: hearing impairment. Jaime told me that the average household income in Ghana is $975.00 a year, and the average cost of ONE haring aid is $1,700.00.  In Ghana, apparently, you simply go without.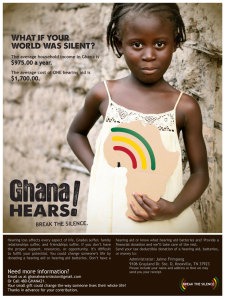 To be honest, I don't know exactly why this struck Jaime so hard.  But I'm thankful it did.  She and a friend of hers, Anna Hampton, have started a charitable organization called GhanaHears! and I'm excited to say I've done some promotional materials for them.  (see above)  GhanaHears! collects donated and surplus hearing aids, as well as funds for hearing aids to send to Ghana, so people have the opportunity to live their lives more fully.
As a designer, this is the kind of work I get really pumped about: charitable work, community organizations, outreaches, etc.  I'm inspired by what people like Jaime and Anna do, and want to take part in it in any way I can.  Sometimes it's not simply the art that I do, that fules my motivation, its why I'm doing it.  When I take a step back from my work and realize that people will be changed by the message I communicate, I have to realize the power and the responsibility that goes along with that.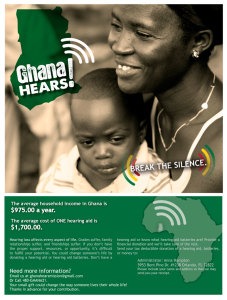 So, thanks Jaime and Anna, for giving me the opportunity to work with you and GhanaHears!  I look forward to seeing GhanaHears! grow, and to hear stories about how people's lives are changed by your act of giving.
For more about GhanaHears!  go to http://www.causes.com/causes/591800