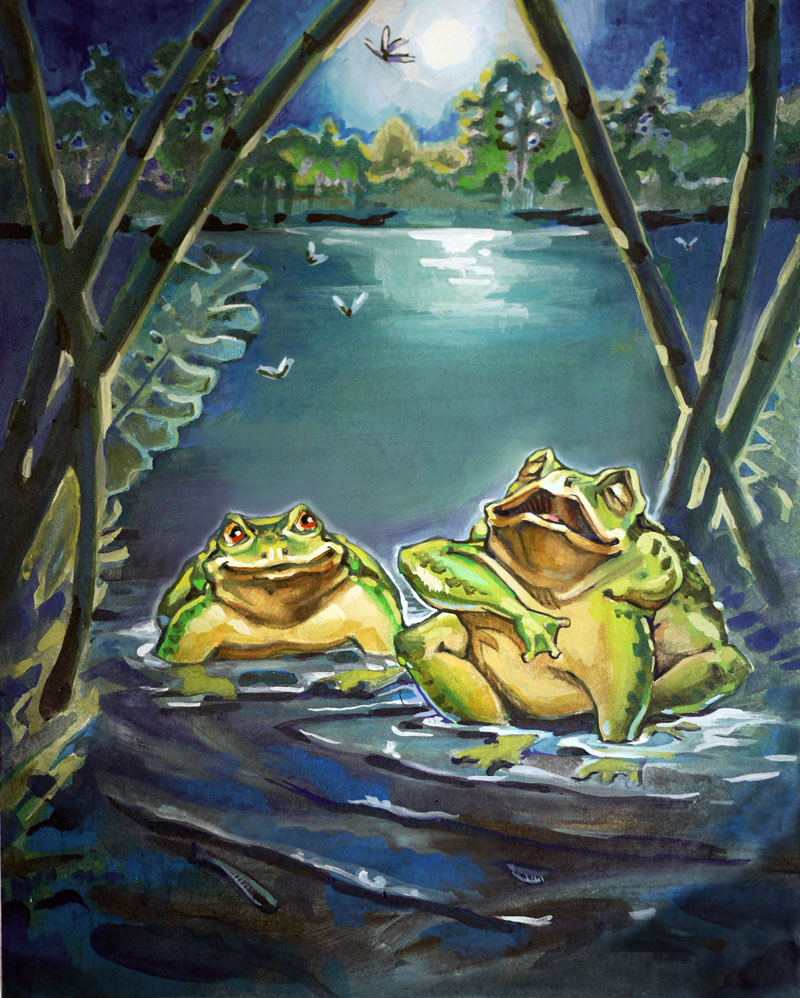 Here you have it!  My first official post for Illustration Friday!  I'm excited to say I actually did it.  Maybe I put too much effort into my first post-(I'm hearing Danielle Duncan's eyes rolling around in her head)-ok perhaps I put way too much work into it.  I won't post how long exactly.
I'm excited to see this as a starting point for me.  I have a decent handle on drawing, but I need to learn to paint as confidently as I draw.  I'm excited how this one turned out, and I'm even more excited to do more and improve my speed.
Sometimes I believe that I can do great work without practice.  But in fact, I believe the best artists in the field rely less on natural ability, and more on sheer hard work.  I'm interested to see how this applies to my life as I continue to paint.  I know that if I set my mind to it, I'm sure to gain confidence in this area.
But, I must talk about the inspiration for this piece! The theme "Midsummer Night" brought a wash of wonderful memories growing up on a farm, and tirelessly playing outdoors after the sun went down.  My husband, Robert, and I went back to my parent's place recently, and I was able to again experience the natural beauty of the rural countryside after dark.  I enjoyed how dark the night actually became, and the glow of distant cities light up the horizon.  And so many stars!  I truly miss seeing stars.
But what I remember most about summer nights were the sounds.  I would lie awake in my bed as a child and listen to the cacophony of sounds all night long.  We have a small pond in our back yard, and our nights would be filled with this symphony of sound: crickets, toads, bullfrogs, bugs.  It's like Pavarotti to me.  I had to illustrate, in my own way, the dramatic bullfrog wooing his mate, by singing in the moonlight.