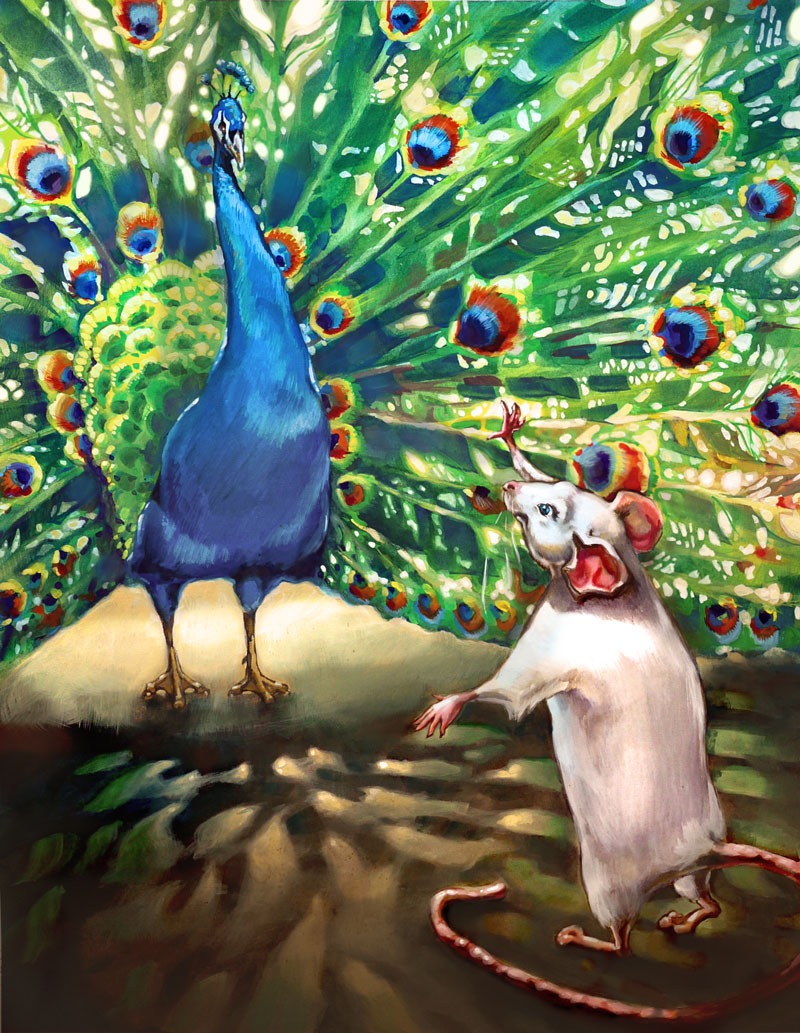 A few months ago my friend Heidi Beaver and I agreed to read a children's book together and then illustrate from it.  She chose a childhood favorite from her grandmother's shelf: Miss Bianca Goes to the Orient, by Margery Sharp.  (Yes, the very same Miss Bianca from Disney's The Rescuers, and The Rescuers Down Under) Though not wholly captivated by the plot line, I was entranced by the language and imagery which made it a pleasurable read altogether.  I am heartily for books that assume more of young readers abilities to comprehend, rather than less.  There was more than one occasion where I had to pick up the dictionary. (Anyone use the word 'coiffure' recently?  Apparently Miss Bianca does.)
The passage I chose from this book falls right in line with this week's Illustration Friday word "gesture."  It embodies the opulence and splendor of the Orient, as the writer imagines it.  Here is a portion of the passage I chose, Miss Bianca is on another rescuing mission, of course, and she comes across a peacock in the grand courtyard of the queen, or Renee, as the book tells us.  The Peacock has a key piece of evidence for the case, but first Miss Bianca is distracted by his beauty: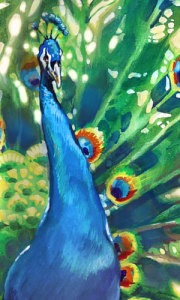 "Good day," said Miss Bianca, with a graceful bow.
After a moment's hesitation, the peacock bowed back…"My salaams," said the peacock.  His iridescent throat actually brushed the marble pavement. — It was too tempting altogether!  Miss Bianca, who had naturally intended to wait until their acquaintance ripened, couldn't resist the opportunity.
"Would you mind if I stroked you?" asked Miss Bianca impulsivley."  "Twill fulfill one of my dearest dreams."  she added, "which I had begun to believe but a dreem indeed!"
"Not at all," said the peacock graciously. (Besides being proud as a peacock he was vain as a peacock.) "A very natural ambition!"
Delicately Miss Bianca laid her hand on the short blue-green-purple plumage. Delicately stroking, she felt almost and electric shock, such as any contact with sheer beauty always produces in the aesthetically sensitive…
"I dare say you'd care to see me unfurl?" he suggested.
"If it's not too much trouble!" begged Miss Bianca.
"Well, I don't usually at this hour," said the peacock, "But to please a lady of such obvious taste and discrimination as yourself, here goes! —You'll get a better view if you stand back as  bit."
Upon which, as Miss Bianca took his advice, slowly and majestically he raised the great multicolored fan that was his tail.  To Miss Bianca, at ground level, it look like and Aurora Borealis died in rainbows…"
"Superb!" murmured she. "Quite, quite superb!"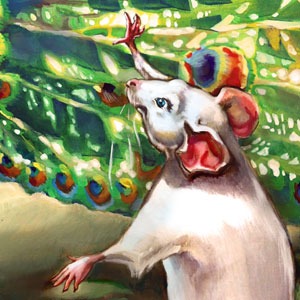 I used my new favorite medium, gouache, for this piece, and a small amount of Photoshop post processing to make the photo look more like the actual painting.  If you are interested in any of my illustrative work, please feel free to contact me!  I've also really been wanting to do a mural, so if anyone is interested, please let me know!
Be sure to look for next Friday's word next week, until then, have a fantastically summery day!