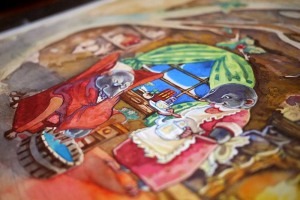 In honor of the first blanket of snow to cover the ground this season, I'd like to share progress on what might be the coziest painting I've ever worked on.  It's about 60% complete, and I'm painting it in my favorite traditional medium, gouache.  I'm also taking a bit of a different approach than normal with this painting.  Where I usually start with a written story, I'm instead painting from a feeling. The feeling I get when I'm home. I imagine this picture as the final illustration in a chapter book, in which Mr. Shrew finds himself in heaps of mischief despite Mrs. Shrew's repeat warnings.  In the true spirit of Beatrix Potter, he's sweetly comforted by a simple cup of hot tea and the love and safety of home.
For me, 2013 has been an interesting year, complete with its own set of mishaps and blunders.  I think painting this story, regardless of its ever being completed, has helped me process my own story and the events of this year.  I imagine myself as Mr. Shrew. Silly, blundering Mr. Shrew. *sigh*  Who knows what he's been through? But here we find ourselves, in the last chapter, where he sits comfortably soaking his feet and having his tea. At least for now we know he is quite safe.
I'll be sure to post the completed painting before the end of the month!