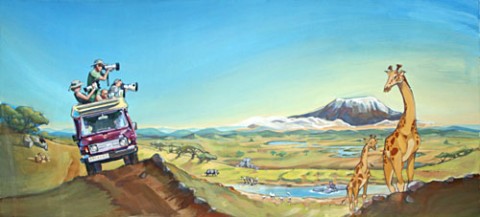 So I've logged a considerable number of hours into this project, and am finally almost to the finish line!  I've got most of the hard work behind me, and now just have to paint a few animals, and a jeep on the wall of the nursury.  However I haven't been posting my progress like I should, so here I am, making up for lost time!
My last post featured my safari landscape concept painting done in gouache.  At the time I had not added any characters.  This is the finalized landscape image directly before I added the animals.
I then began work developing characters, as you see below.  As you may already know, characters come the most naturally to me when drawing.  Oftentimes when I'm doodling on a scrap of paper, usually during church, I find myself drawing eyes, ears, noses, and construct them into odd characters.  This project has challenged me to put two and two together, I get to have my characters, but I am challenged by having to work them into an environment composition.
Directly after finishing my character drawings I used graphite paper to transfer them directly onto my landscape painting.  I blocked in the color, detailed them out, and the rest is history!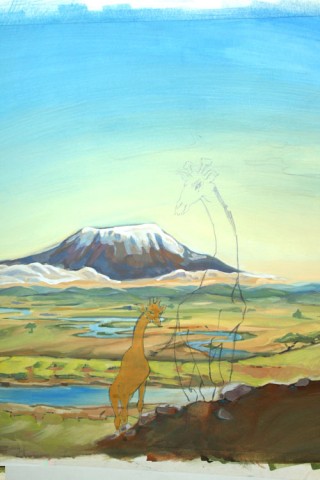 This is the composition completed before I move to paint it on the wall.